We are taking special precautions at our corporate office, shopping centers, apartment communities, and boutique hotels to ensure the health and safety of our employees and tenants and our tenants' customers. We are following guidelines for frequent disinfection of surfaces, hand washing, mask wearing and social distancing, and ensuring our employees adhere to all recommended safety precautions to keep themselves and all who live, work and visit stay safe.
Best Practices for Re-opening & Water Safety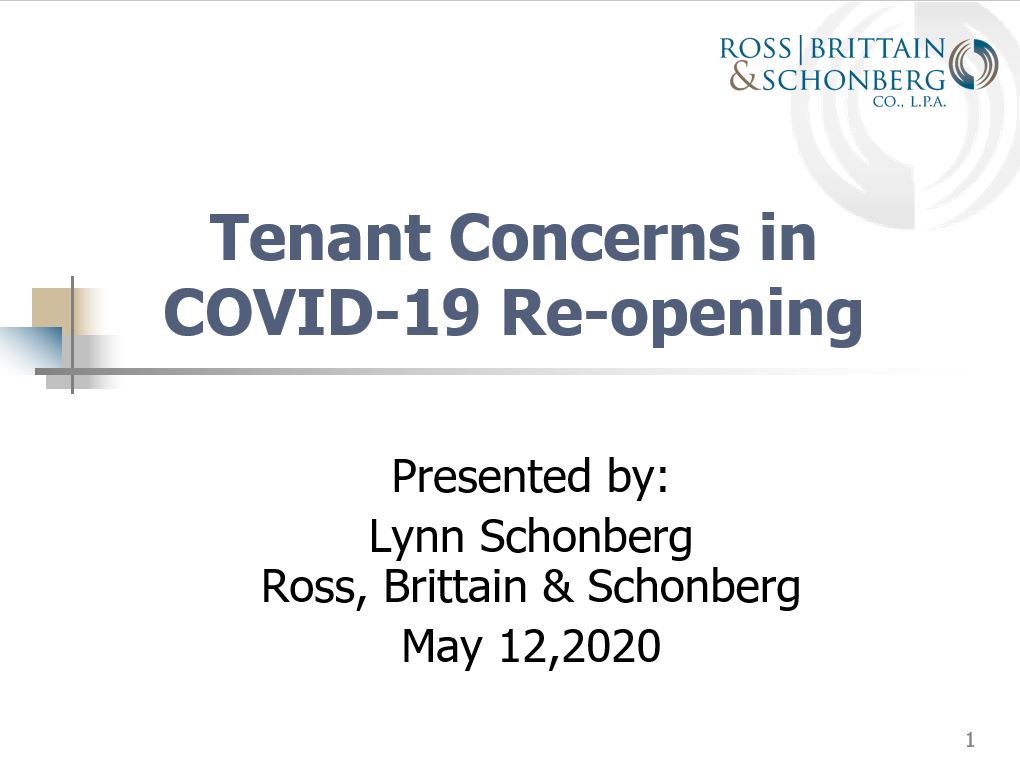 View the May 12, 2020 Webinar Presentation – Reopening
Prepared by Lynn Schonberg, Esq. of Ross, Brittain & Schonberg
VIEW the April 2, 2020 Webinar: Small Business Relief Financial Programs & Loans 
Paran Management is grateful to Greg Gens and Mike Dodson of FocusCFO for their expert guidance on the loan programs.
COVID-19 Health Information for Businesses
Interim Guidance for Businesses & Employers  – A guide to help plan for and respond to COVID-19
Ohio Department of Health – If you have questions regarding Coronavirus/COVID-19 please call 1-833-4ASKODH (1-833-427-5634)
Centers for Disease Control and Prevention (CDC)  – Ways to Protect Yourself and Others
---
State & Federal Business Support 
It is strongly advised that business owners seek the assistance of a financial advisor and banking professional as they consider and pursue federal and other sources of loans and grants. The support landscape continues to evolve and provisions for eligibility and new programs are arising. Many Small Business Development Centers (SBDC) are also providing free support from knowledegable small business experts to help owners navigate assistance programs and loans.
The CARES Act will quickly bring Americans fast and direct relief in the form of Economic Impact Payments. Read more. The Paycheck Protection Program (PPP) portion will help small businesses by authorizing up to $350 billion in support for job retention, rent payment and other business expense support. Please consult your financial and banking advisers to help navigate eligibility and best choices for you and your business.
Office of Small Business Relief
(Ohio Development Services Agency)
The Office of Small Business Relief (OSBR) is focused on identifying and providing direct support to the state's nearly 950,000 small businesses to help during the current public health crisis and to position them for a strong rebound.
Visit the site
.

Families First Coronavirus Response Act

This bill responds to the COVID-19 outbreak by providing paid sick leave, tax credits, and free COVID-19 testing; expanding food assistance and unemployment benefits; and increasing Medicaid funding. Read more on the U.S. Dept. of Labor site.
---
Local and Regional Business Support
ReStartCLE Emergency Working Capital Program Loan – Specially Impacted Businesses – for businesses within the City of Cleveland
Cuyahoga County Dept. of Development – Stabilization Loans and Stabilization Grants for businesses in Cuyahoga County
Small Business Administration – Local Resource Directory
Dayton Area Chamber of Commerce
Greater Chambersburg Chamber of Commerce

Cincinnati USA Regional Chamber

---
Employee Relief and Assistance Funds
Ohio Restaurant Employee Relief Fund
Restaurants are cornerstones of every community and Ohio employs more than 585,000 of your friends, neighbors and family. Now is the time to support those who have supported us and the communities we call home. Read more and apply.
---
*Disclaimer: The information provided here is not presented as an endorsement, guarantee or assurance of any program or source. Paran Management does not guarantee the accuracy or correctness of the information provided. It is being presented merely as a reference to resources that readers may find helpful. The situation is rapidly evolving and therefore some information within the links may be corrected and/or changed by the source.